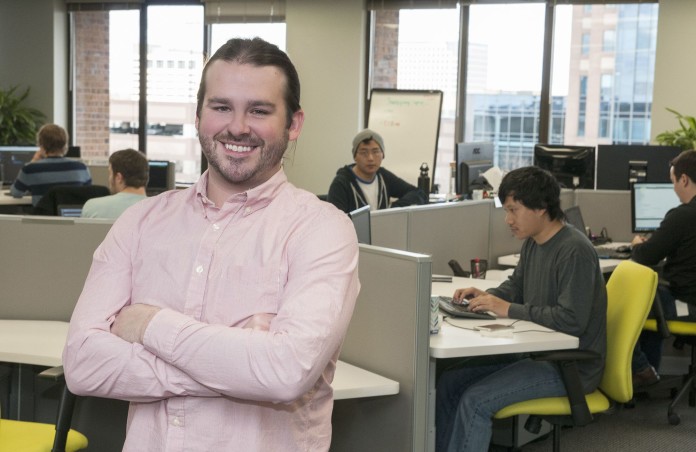 Andrew Birkholz in a Senior Consultant at TapQA in St. Louis Park.
Andrew Birkholz was one of the first three people hired by TapQA, a company that places quality assurance consultants on information technology projects. "I walk into the office and there's basically nothing in it," he recalled. "I was like, 'Are you sure this is the place for the interview?'"
Almost six years later, TapQA has grown to 130 people and has moved to a new office. Birkholz is now officially a senior consultant, but "it's more software engineer," he said. "Basically we write test automation. The client I work with is in San Francisco. That whole area is very cutting edge."
Birkholz still sounds a little surprised by his success. "I have a degree in political science – totally unrelated to what I'm doing now. I started a business when I was in college, so I did that for the first year after I graduated. While I had my business I was starting to build websites. I liked doing this stuff but I had no résumé to back it up. TapQA said, 'That's the kind of people we want.' So I fell into it. It turns out it's something I love to do, which I never in a million years would have expected."
The role of quality assurance testing, Birkholz said, is to make sure there are no defects or bugs in a company's software before they release it. Birkholz began his career doing manual testing but quickly moved into automated testing. "Automation comes in because having people manually test requires too much time and costs a lot of money. It's faster for a computer to do it. A good example would be if you search for 'TV' on Amazon, there are a million different combinations. We write software that can do all that testing overnight. It would take a hundred people to do that manually," he said.
Automation is also growing because of the proliferation of mobile devices. "The more browsers, the more different phones, the greater the risk of having a defect in your software," Birkholz said.
"Automation is changing the landscape. It used to be about hiring manual testers at a cheap price. Now the demand is going up. There are more jobs than people to do them. If you were trying to find a job with a stable long-term outlook, that would be it."
Does TapQA still hire entry-level QA people?
A huge part of our business growth is finding people who don't have a ton of experience but want to get into the industry. We'll find people who have a little bit of experience like I did and couple that with someone who says, "I have no experience but I just really want to learn it."
How do you recognize potential?
For me, one of the top things is someone with a passion for it. There's always something new, there's always a new language to learn. People need to be able to teach themselves. You have to look at that enthusiasm for technology in general.
Is there any common thread in successful QA people?
Music is an unexpected one. The conception on software development is that it's very mathematical, but it's also very creative – a blend of science and art. They need to know the technical part of writing code but they also have to have the creative side, which is how you put the notes together.
Photo Credit:
Link:  http://www.startribune.com/my-job-andrew-birkholz-quality-assurance-consultant/358772991/